Chilean President Michelle Bachelet said her administration is looking to update its 2002 trade pact with the European Union, rather than prioritize a free-trade agreement with the post-Brexit U.K.
"We were the first country in Latin America to sign a free-trade agreement with the European Union and following agreements with other countries have incorporated positive advances," Bachelet said in an interview in Santiago Friday. "So our fundamental effort right now is to update it."
U.K. Prime Minister Theresa May has said that Britain, once free from the shackles of the EU, will sign free-trade accords with countries around the world, pitching the nation as a champion of globalization in a speech in Davos, Switzerland last week. Chile, which has trade pacts with more than 40 countries, would be a prime candidate. Still, Bachelet indicated that Chile was in no rush.
"Brexit has a two-year time span," Bachelet said. "There's time to see how we'll continue our relationship. We have very good historic, political, diplomatic and economic relations with the U.K."
The EU is Chile's third-largest trade partner, comprising 14.4 percent of Chile's total exports and imports in 2015, according to data from the European Commission. At the same time, the EU is Chile's biggest foreign investor, accounting for 27.8 percent of foreign direct investment flows into the country.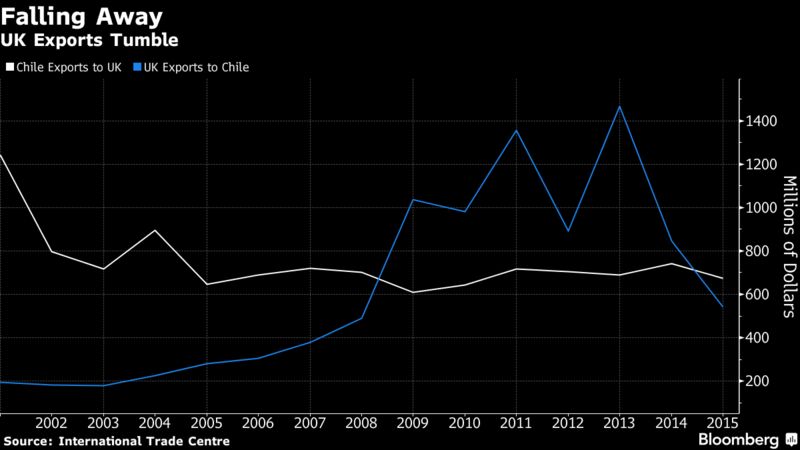 Chile has signed the trade pacts since returning to the international fold with the end of Augusto Pinochet's dictatorship in 1990. Its largest trading partner is now China, to which it exports hundreds of thousands of tons of copper, much of which is then used in manufactured goods exported to the U.S. At his inaugural address Friday, President Donald Trump pledged to put America first in any future trade talks. That could leave Chile's economy vulnerable.
"No one would benefit from a trade war between China and the U.S.," Bachelet said. "I believe it would generate enormous uncertainty and volatility in the world."
Source: Bloomberg