Thailand still doesn't have a new government in place following March's divisive election, and the delay is pushing out the timeline for big infrastructure projects just as the economy slows.
The outgoing military administration, whose proxy party is trying to assemble a successor ruling coalition, set a target of signing contracts for $20 billion of major projects by May but the deals haven't been completed yet.
"It's impossible," said Pakpoom Srichamni, president of Sino-Thai Engineering & Construction Pcl, which bid for one of the projects. "We haven't seen much progress in the first five months of this year mainly because of political uncertainties."
A party carved out of the junta is set to assemble a ruling alliance, but its stability is already in doubt as the bloc will have a slim majority and face fierce criticism from parliamentarians opposed to military control. Even so, Pakpoom believes construction initiatives will pick up speed in the second half of the year once an administration is formed.
"We've had coalition governments before," he said. "Infrastructure investment is necessary for the nation's future. Any government will need to continue these projects. They may make some changes, but they should move those projects ahead."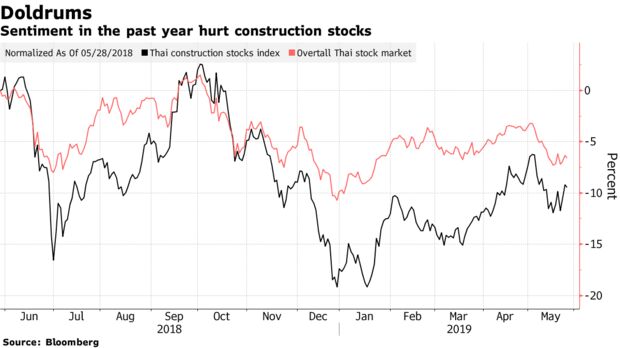 The SET Construction Services Index of builders has slumped 9% in the past year, exceeding the 6% slide in the overall Thai market.
"We believe delays in the roll out of large projects are likely and this will cause negative sentiment in the construction sector," said Maria Lapiz, managing director at Maybank Kim Eng Securities (Thailand) Pcl in Bangkok.
The $20 billion of projects are part of a development plan for Thailand's eastern region, and the official overseeing them said the outlook will remain somewhat hazy until an administration is in place.
"There are concerns, but we'll wait and see," said Kanit Sangsubhan, the head of the Eastern Economic Corridor Office, while adding he still expects the projects to progress in the coming weeks.
Thailand said Tuesday the start date of the fiscal 2020 budget will be delayed three months to Jan. 1 so the next administration can review the plan, a step that may temporarily curb outlays on some investment projects.
Slower budget disbursements add to the challenges facing Southeast Asia's second-largest economy, which expanded at the weakest pace in the first quarter since 2014 as exports, tourism and public investment moderated.