In one of its first actions, the administration of President Donald Trump delayed implementation of a rule allowing Argentine farmers to export lemons after a decade of talks, putting into doubt trade negotiations between the two countries.
The White House ordered a stay of 60 days "on its final rule to allow the importation of fresh lemon fruit from northwest Argentina," the Animal and Plant Health Inspection Service said on its website.
Argentina is currently in talks to regain preferential tariff status with the U.S., as well as resume beef exports and extend the U.S. visa waiver system to Argentine tourists. Yet Trump vowed in his inaugural speech that his two rules are hire American and buy American, raising concern Macri won't be able to leverage his personal relationship with the new president to improve trade ties. Agroindustry Minister Ricardo Buryaile told Argentine station Radio Mitre he is confident the delay would not become permanent.
"We need to see the facts before getting ahead of ourselves," said Jorge Neme, secretary for international relations for Tucuman province, where Argentina's lemon production is centered. Suspending legislation that hasn't been completed is standard practice during the transition of governments in the U.S.
"Obama did it eight years ago and Trump is doing it now," Neme said by phone.
Shares of Tucuman-based lemon exporter SA San Miguel AGICI tumbled 6.7 percent at the close in Buenos Aires on Monday, the most since Nov. 11.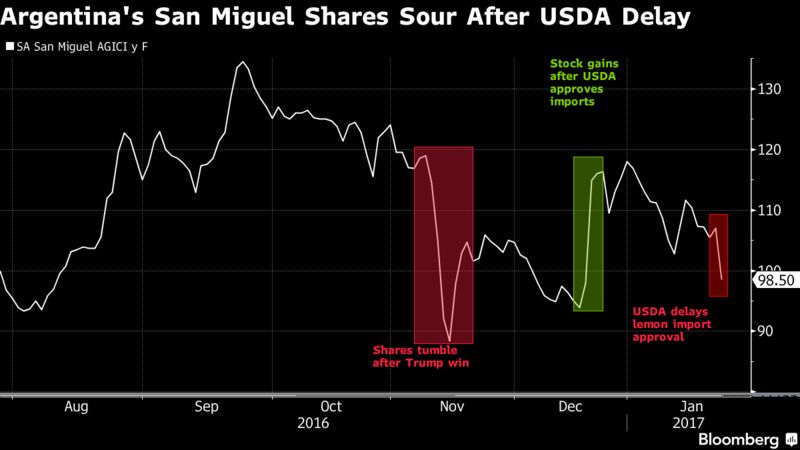 The U.S. has fallen to Argentina's third-largest trade partner after decades of being No. 2 as relations between the two countries chilled following Argentina's 2001 default. Lemon producers from California had pushed to block the resumption of imports.
"We were pleasantly surprised this morning," Joel Nelsen, president of California Citrus Mutual, said by phone from Exceter. U.S. lemon producers are pro-trade but they fear Argentine fruit has black spot, a disease already affecting parts of Florida groves, Nelsen said.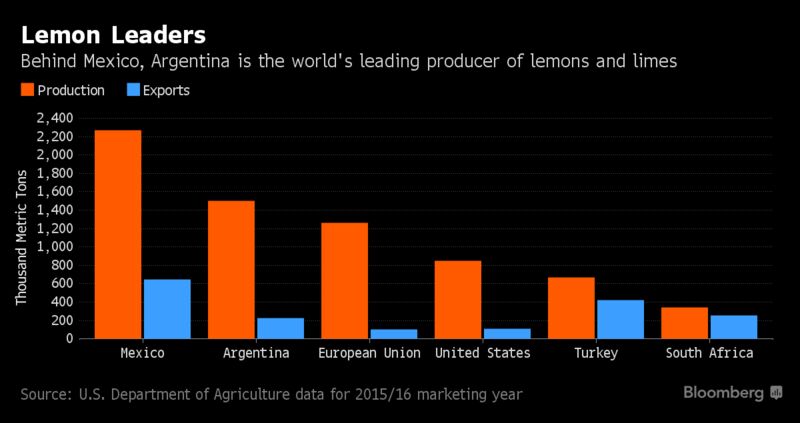 "If President Trump and his collaborators confirm what they've been saying these last few days, it's most probable that we'll have a very closed-off U.S.," said Marcelo Elizondo, director of international trade consultancy Desarrollo de Negocios Internacionales. "We shouldn't expect big advances in the bilateral relationship."
Source: Bloomberg